Free Download GeneratePress Premium is one of the most popular multi-purpose free WordPress themes specially for those who work on multiple niche sites or those professionals who build websites for their clients. Pro version of this theme also available, which is known as GP Premium or GeneratePress Premium.
Actually, GP Premium is a plugin for the GeneratePress theme, which takes your site to the next level by adding premium modules support. You can easily create a unique layout for any niche site using the GeneratePress Premium theme.
GeneratePress Premium theme also works great with all popular page builders available online. You can customize every single section of this theme from appearance settings according to your needs. It gives you full control of layout, colors, typography, navigation, spacing (padding and margin), copyright message, and lots of other things.
If you don't want to spend time on customization, then no need to worry, GP Premium allows you to import up to 25+ pre-built layouts in just one click from your WordPress dashboard. Most of the webmasters and bloggers loves this theme because of its excellent performance and fast loading speed. Overall, the GeneratePress Premium theme is the all-in-one theme for all niches from a business site to a personal blog.
Do you want stunning page heroes, personalized post meta, or custom sidebars & footers? You got that. Or maybe a custom author box without adding a plugin or writing code? How about your very own custom element populated with custom field content? But what if you could build your own single posts and post archive templates? Well… you got that too!
Throw Element Display Rules into the mix and your site design options are endless. Do you want a different post layout for your search results? Or how about a category-specific post layout? Well, that's all possible too.
Yep, that's right, using the GP Premium Elements module you can now build, style and integrate dynamic theme elements using the core block editor and GenerateBlocks.
And this is just the very beginning of our journey towards a full block-based theme building experience.
Free Download GeneratePress Premium v2.1.1
Over the last 18 months, we have been carefully planning, designing, and developing the necessary components to realize what has been a long-term vision for the future of GeneratePress – block-based theme building.
At the center of our plans was the fundamental rewrite and release of GeneratePress 3.0. Aside from the significant reduction in code overhead, it introduced dynamic control over the themes content templates. This new function allowed templates to be changed dynamically without the need for creating Child Theme templates in a lot of instances.
Next, we needed some block-building tools that were both lightweight yet feature-rich. The blocks had to be multi-purpose as opposed to individual blocks with specific use cases. This resulted in GenerateBlocks and GenerateBlocks Pro. A simple 4 block plugin that provides the basic blocks required for any kind of layout or element. Simple, effective, and perfectly suited to output static and dynamic content.
With GeneratePress 3.0 and GenerateBlocks in place, we were now ready to deliver block-based theme building.
Recommended Plugin: Free Download EventON
Free Download GeneratePress Premium v2.1.1 (GP Premium)
GP Premium Demo
Dynamic Data
When using Block Elements, you can now add dynamic data to blocks inside our GenerateBlocks plugin!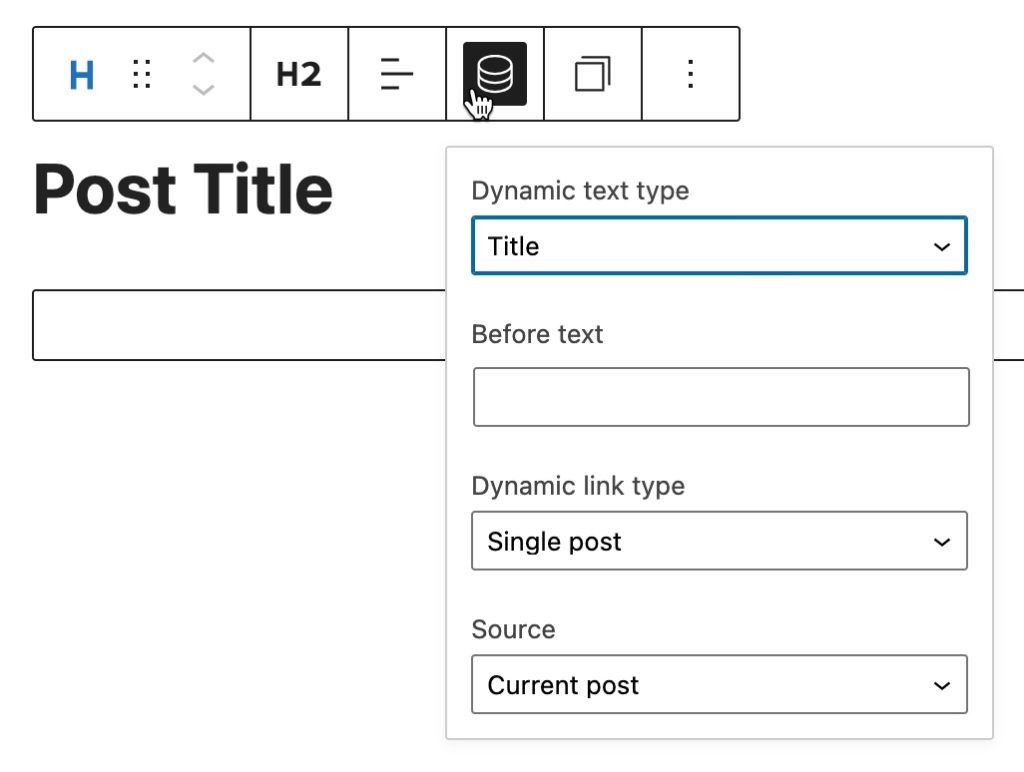 While using the Headline or Buttons block inside GenerateBlocks, we can now tell them to use the following Dynamic Text Types:
Title – the post/page/term title of the current page.
Post date – the published or updated date of the current post.
Post author name – the name of the post author.
List of terms – the post terms associated with your chosen taxonomy.
Comments number – the number of comments the post has.
Post meta – the value of a custom field name.
Term meta – the value of a term custom field name.
Author meta – the value of a user custom field name.
We can also apply Dynamic Link Types to these blocks:
Single post – the link to the current single post
Author archives – the link to the archives for the current author
Comments area – the link to the comments are of the current post
Next page of posts – the link to the next page of posts in the archive
Previous page of posts – the link to the previous page of posts in the archive
Post meta – the value of a custom field name.
Term meta – the value of a term custom field name.
Author meta – the value of a user custom field name.
With these options available to use in Headlines and Buttons, we're all of a sudden able to build our own theme elements directly in the editor. No need for complex Customizer options that have limitations – you're in complete control.
Content Templates
Content Templates allow you to take over the default theme design of your content area, regardless of whether you're in archives (the blog) or single posts/pages.
This means you're no longer limited to the Customizer options – you're in complete control of your design/layout.
For example, here's the default blog design in two columns.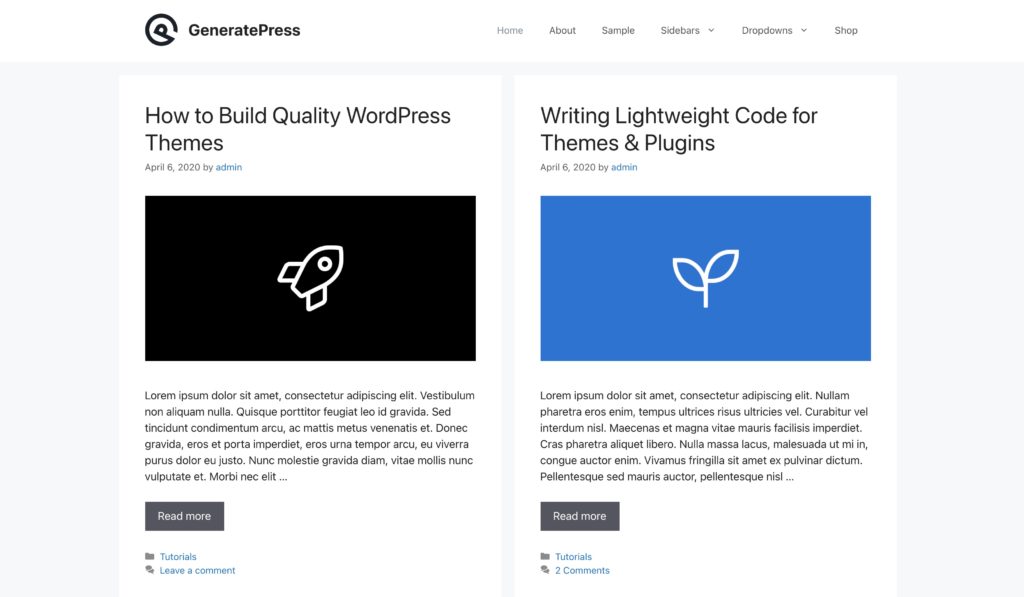 Previously, we were limited to using the Customizer when it came to designing our posts. Now, we have total control of the layout and design directly in the block editor.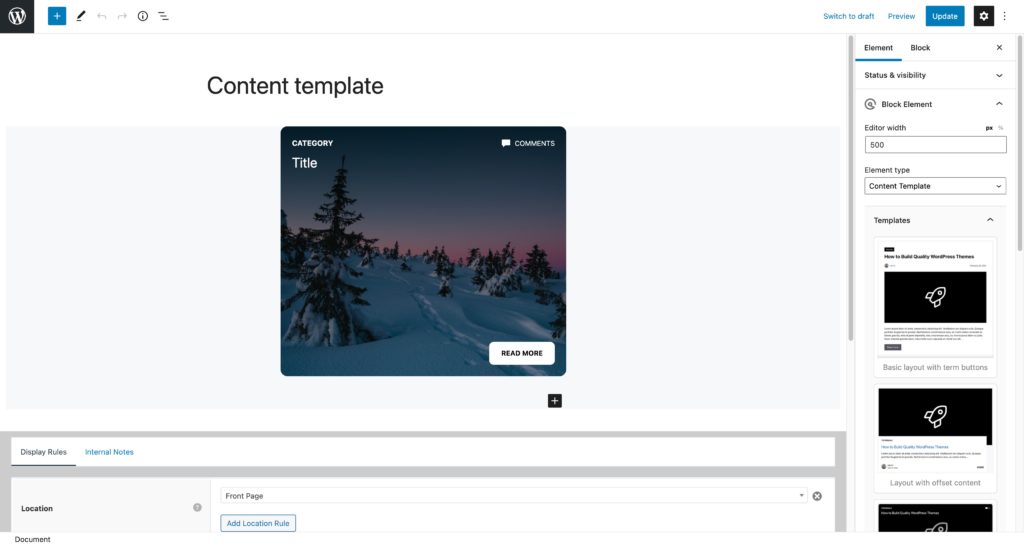 Using GenerateBlocks and GP Block Elements, we can design our posts using dynamic data, and then apply them to our live page based on our chosen Display Rules.
So our default post columns now turn into this:
Content Templates can be used for your archives, or even single posts/pages. And thanks to our Display Rules, you can have completely different templates for different areas of your site.
On top of that, you can even apply different Content Templates to posts with specific terms, custom fields, or the first post all within the same Display Rule. That means your main blog page can use completely different Content Templates for different posts.
When these conditions are set, you can give your Content Template a parent to fallback to if the condition isn't met.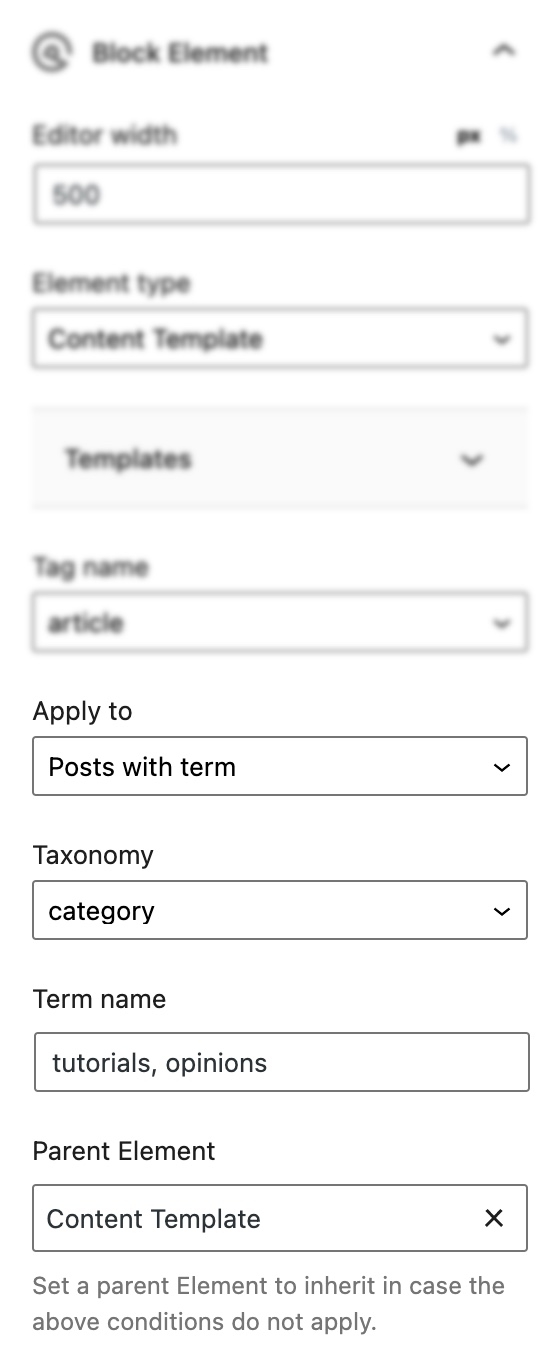 Page Hero Templates
You might be familiar with our Header Element that makes use of template tags to build dynamic page heroes. This works well, but it doesn't allow you to visually build your page hero – it requires a certain level of HTML/CSS knowledge.
Now, we can scrap the custom HTML/CSS and build our page heroes directly in the editor.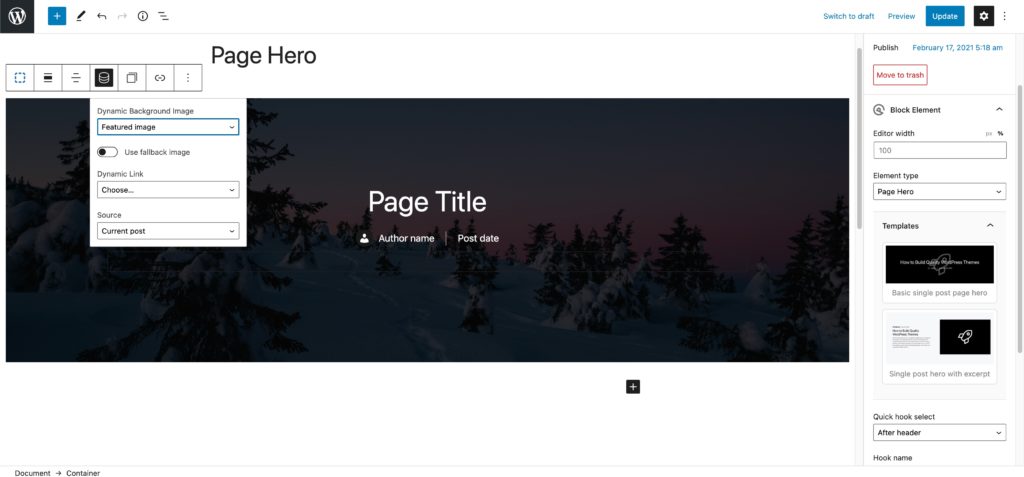 Once we have the Page Hero Template designed to suit our needs, we can add the necessary Display Rules to apply it throughout our website. The image below shows what the above template is rendered as within one of our single posts.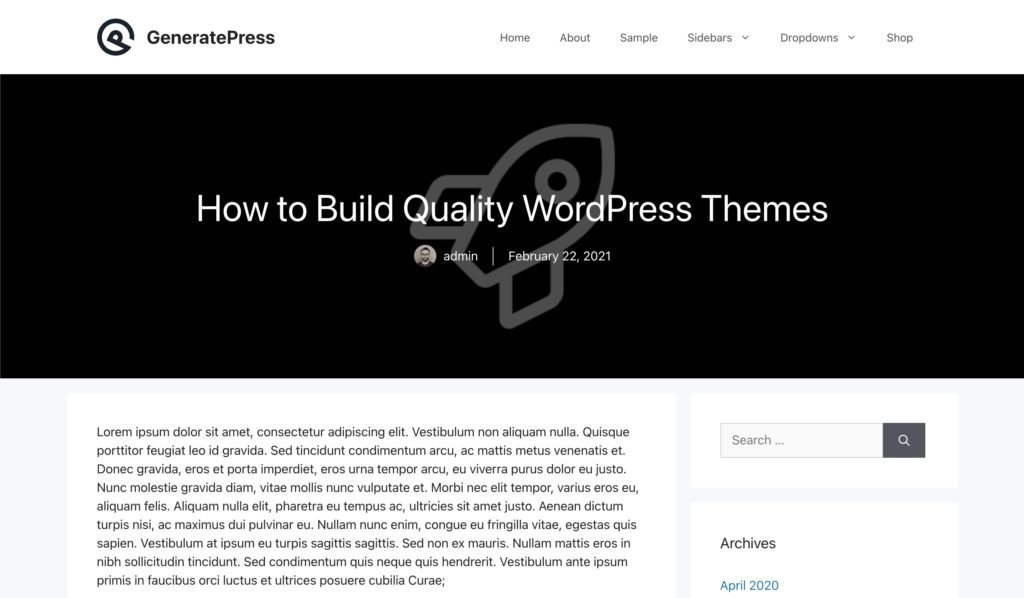 We're now able to achieve a dynamic page hero with no ugly template tags or HTML – everything is done directly in the block editor.
Check out the video below to see the Page Hero Templates in action.https://www.youtube.com/embed/yq6VcgU3Ufg?feature=oembed
Post Meta Templates
In some cases, you may want to keep the default Content Template that the theme provides, but design your own post meta area. This is where Post Meta Templates are super useful. They allow you to build out your post meta areas in the block editor using whatever layout you need.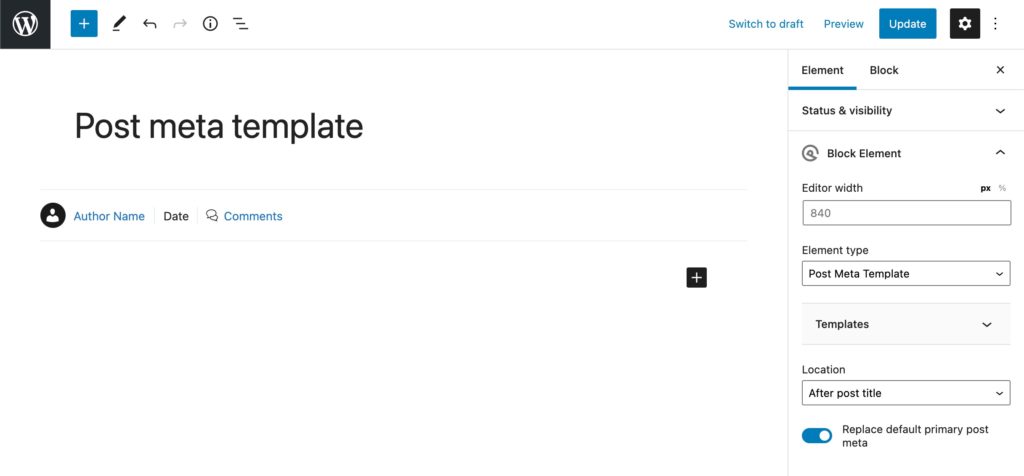 Things like author avatars, author names, posted on dates, updated on dates, comment links and much more are all right at your finger tips. No more PHP filters or checkboxes in the Customizer. You can even use the Buttons block to output your post terms (categories, tags etc…) using separate buttons!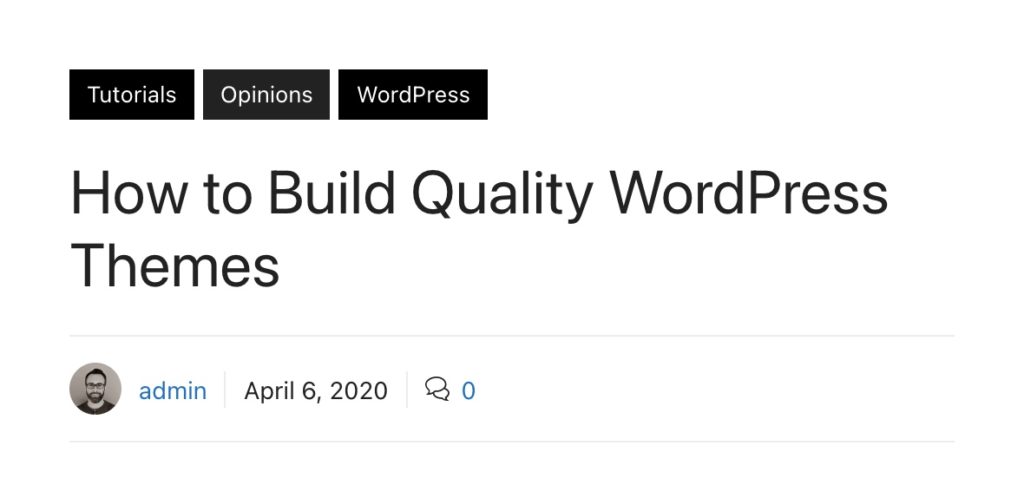 Post Navigation Templates
All of our dynamic data has a source option that allows us to grab dynamic data from the current, next, or previous posts. This allows us to build our very own Post Navigation Templates for our single posts.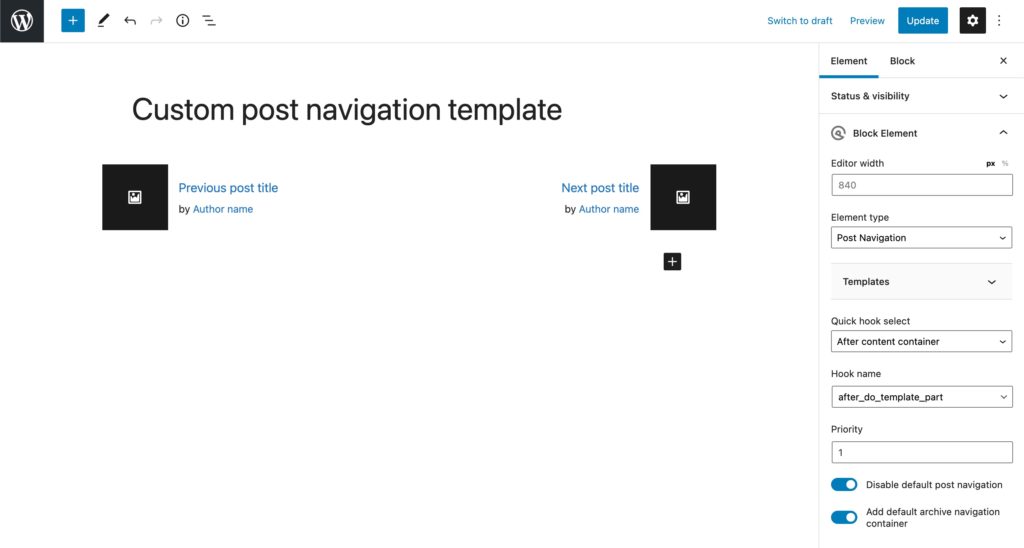 Using the above, we now have a completely custom post navigation area with the titles, featured images, and author names of the next and previous posts.

Archive Pagination Templates
Lastly, we can build our own archive pagination templates using the Next Posts Page and Previous Posts Page link options.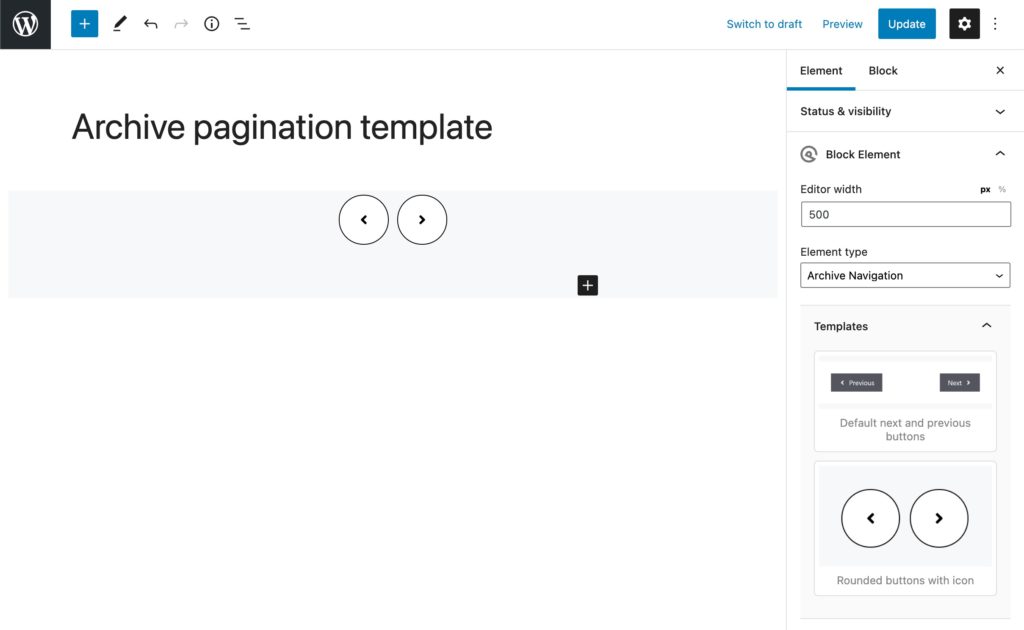 ---
And that's just scratching the surface! So far, we're incredibly happy with how flexible these new Block Elements are. This is the first step in converting GeneratePress into a hybrid full-site editing theme. You get the freedom of designing your theme elements in the block editor along with the power of Display Rules to conditionally add those elements wherever you need them. The days of completely different designs for different categories or custom post types are here!
Site Library
Our Site Library has been completely rebuilt from scratch using React! Not only does everything feel much faster/more intuitive, but it's also way more reliable across different hosting services that had issues with the previous version (WordPress.com, EasyWP, etc…).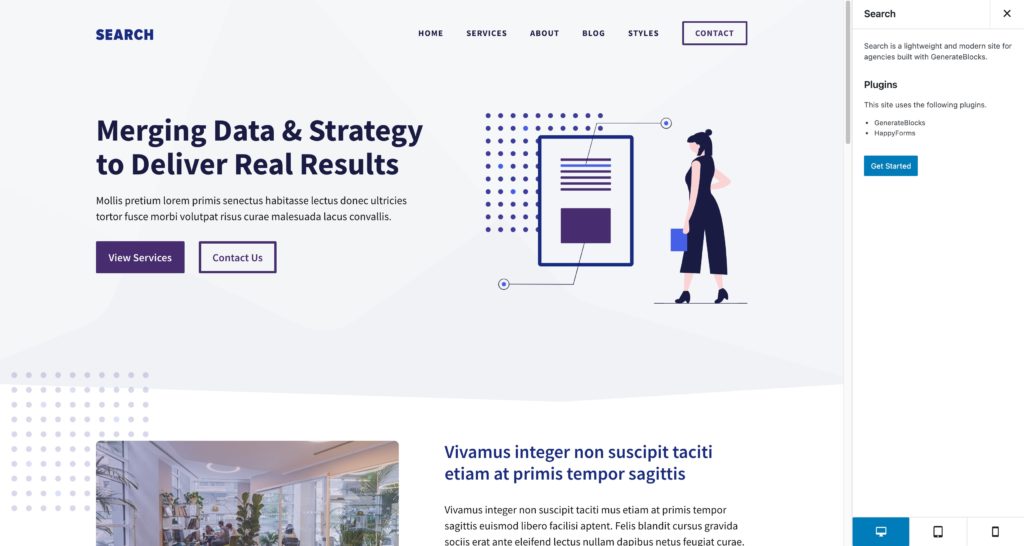 Less jQuery
We're that much closer to completely ditching jQuery in GP Premium! Our Masonry and Infinite Scroll features have been re-written using vanilla javascript!
That means the only jQuery left on the front-end of GP Premium is our sticky navigation and some WooCommerce features (WooCommerce uses jQuery by default). We have some awesome plans for a new sticky element feature that will be coming soon!
Sections
Our Sections module is now officially deprecated. It will continue to work/be activated on sites that have it activated, but it will no longer be available in the list of modules to be activated.
Sections was our very first attempt at a "page builder" back in the days before page builders were popular. It was a big part of our development, but with the emergence of the block editor and GenerateBlocks, it's no longer needed.
Full Changelog
beta.3
Elements: Add No Results as a Display Rule condition
Elements: Add post meta option to dynamic image block
Elements: Add remove container condition for featured images
Elements: Add remove container condition for post meta
beta.2
Elements: Add generate_element_display filter
Elements: Add generate_should_render_content_template filter
beta.1
alpha.6
Elements: Fix blank display rule option displaying multiple times
Elements: Fix hook priority not saving 0
Elements: Remove parent/order fields from Elements quick edit
Menu Plus: Fix menu bar item sticky transition
Menu Plus: Prevent sticky sidebar nav if mobile header is set to sticky
alpha.5
Elements: Fix undefined variable
Menu Plus: Make Off-Canvas menu take up full width of canvas
alpha.4
Colors: Fix back to top Customizer color preview
Elements: Exclude current content template from parent dropdown
Elements: Show content template display rules if no condition set
Elements: Fix saving when parent content template removed
Elements: Improve Display Rule loading performance
Elements: Hide entire Elements metabox in block element with no display rules
Elements: Elements: Add block type filter to Elements dashboard
WooCommerce: Re-write quantity button javascript to be more performant/extendable
General: Clean up javascript throughout plugin
General: Replace deprecated jQuery functions
alpha.3
Elements: Integrate block element parents with "Apply to" conditions for fallbacks
Elements: Add support for multiple comma-separated terms in "Apply to" conditions
Elements: Add First Post "Apply to" condition
Elements: Add support for some get_userdata() fields in author meta
Elements: Show dynamic image source in post navigation templates only
Elements: Make active element labels translatable
Elements: Only show Active Elements panel in public post types
Elements: Prevent the block element CSS from outputting multiple times
Menu Plus: Add dimensions to mobile/sticky logos
WooCommerce: Remove text-decoration from quantity buttons
WooCommerce: Add higher z-index to add-to-cart-panel
WooCommerce: Remove unnecessary quantity button JS
alpha.2
Blog: Fix error in infinite scroll when no button exists
Blog: Tighten up masonry/infinite scroll JS
Blog: Add separate infinite scroll path element in footer
Elements: Remove dynamic update date option
Elements: Integrate updated date with dynamic post date option
General: Use inline CSS when AMP is activated for better performance
alpha.1
Blog: Rewrite infinite scroll using vanilla javascript
Blog: Rewrite masonry using vanilla javascript
Blog: Add separate infinite scroll path element to footer
Blog: Fix missing single/page featured image options when archive image disabled
Blog: Add aria-label instead of screen-reader-text to read more button
Colors: Fix back to top Customizer color preview
Elements: New Content Template Element
Elements: New Post Meta Template Element
Elements: New Post Navigation Template Element
Elements: New Page Hero Block Element
Elements: New Archive Navigation Template Element
Elements: New Editor Width option in Block Elements
Elements: Move Block Elements options into editor sidebar
Elements: Show Site Header options by default in Header Element
Elements: Fix Classic Editor issue in Block Elements
Elements: Add a list of active Elements to page editor
Elements: Add a list of active Elements to the admin bar
Elements: Add notices to Customizer if Elements may be overwriting options
Elements: Disable mobile header menu if menu is disabled via Layout Element
Elements: Improve Display Rule loading performance
Elements: Add block type filter to Elements dashboard
Menu Plus: Hide slideout toggle at set mobile menu breakpoint value
Menu Plus: Fix sticky menu height when using navigation as header
Menu Plus: Add dimensions to mobile/sticky logos
Menu Plus: Make Off-Canvas menu take up full width of canvas
Secondary Nav: Fix centered secondary navigation items using flexbox
Secondary Nav: Fix conflict with Nav as Header option
Secondary Nav: Fix missing menu cart items when using click dropdowns
Sections: Officially deprecate module
Site Library: Completely rebuild Site Library using React
WooCommerce: Move full width single product CSS to inline CSS
WooCommerce: Use wc_get_product() instead of new WC_Product()
WooCommerce: Add more checks for WC() class to prevent error logs
WooCommerce: Add generate_wc_cart_panel_checkout_button_output filter
WooCommerce: Add generate_wc_sticky_add_to_cart_action filter
WooCommerce: Add generate_wc_show_sticky_add_to_cart filter
WooCommerce: Re-write quantity button javascript to be more performant/extendable
General: Update theme install link
General: Update alpha color picker script
General: Use correct URL scheme in external stylesheet URLs
General: Check if FS_CHMOD_FILE is defined in external stylesheet generation
General: Use inline CSS when using AMP plugin
General: Update EDD_SL_Plugin_Updater class to 1.8.0
General: Clean up javascript throughout plugin
General: Replace deprecated jQuery functions
FAQ
How do I activate my GeneratePress premium?
Now navigate to "Appearance > GeneratePress" and activate the individual modules you wish to use on your site. Please note that WooCommerce plugin itself needs to be installed and activated before GP's WooCommerce module can be activated.

What is GeneratePress?
GeneratePress is a free WordPress theme that focuses on speed and usability. In addition to the free theme, we provide a premium plugin that extends the theme, adding more options to help you build your websites.
Does GeneratePress work with Elementor?
With Elementor you can take GeneratePress to another level of design, and are able to create sophisticated and beautifully designed pages and posts, all designed live on the frontend of the site.
Whats is the theme?
In contemporary literary studies, a theme is a central topic, subject, or message within a narrative. Themes can be divided into two categories: a work's thematic concept is what readers "think the work is about" and its thematic statement being "what the work says about the subject".
Copyright Notices: This website is not sharing themes by cloning or cracking. We respect the GNU General Public License (GPL) and the hard work of the theme creator. On this website, we share that links that are already stored somewhere else on the internet and are not a part of this website.
Our website does not carry any responsibility for them. If your copyrighted material has been indexed by our site and you want this material to be removed then contact us immediately. We will remove it in 48 to 72 hours.